Pieter-Dirk Uys Photobombs Hendrik Verwoerd in His 21 Icons Portrait
Pieter-Dirk Uys, whose alter ego Evita Bezuidenhout has been poking fun at the state for the past 30 years, has become the 11th icon of the second season of Adrian Steirn's 21 Icons.
In his 21 Icons portrait, Uys "mischievously photobombs" a bust of Hendrik Verwoerd, drawing attention to his ability to "engage an audience through humour while creating a powerful political message in the process".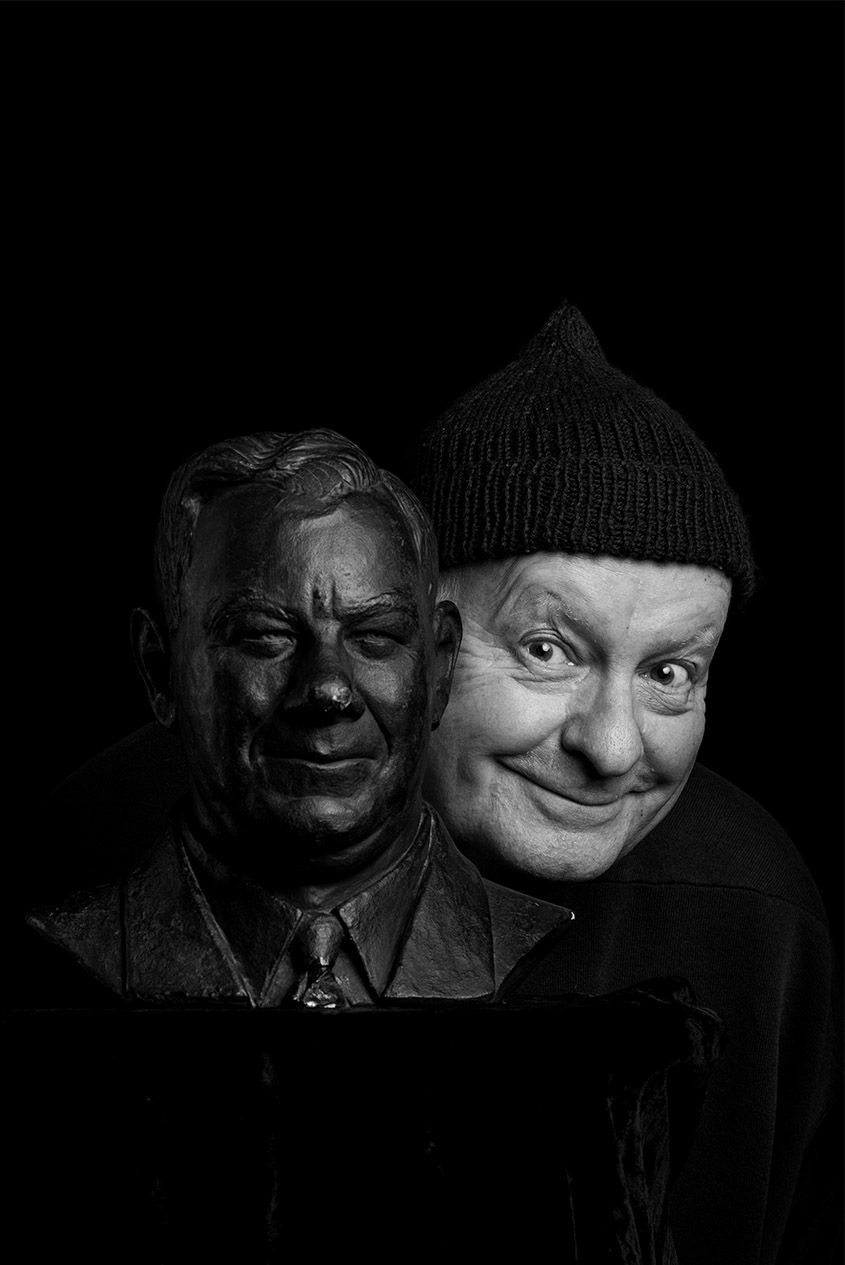 At the heart of Uys's comedy is the sentiment that maintaining silence in the face of visible atrocities is as harmful as being the perpetrator. Publicly opposing the government was perilous in the seventies. "My father was scared of what I did. He knew the dangers, which I didn't know. People in government warned him. They said 'control your son otherwise we will step into this situation.'" But Uys continued to create shows that poked fun at figures like P.W. Botha. "There are things that must be said." Hindered by a banning order, he began writing a column for a newspaper in 1978. It was from these columns that Evita originated.

Uys realised that using a character would not only make his humour more palatable, but could also protect him from the potential ire of the authorities. "It was an instinctive thing – I would hide behind characters constantly," he says. And what better character to veil his criticisms with than an ostentatious, gaudily dressed, middle-aged white lady?

In 1982, he debuted Evita in his show 'Adapt or Die'. She was an Afrikaner from the Transvaal, a supporter of the National Party, and the ambassadress of Bapetikosweti – a fictional Bantustan. "I created this woman who represents a huge amount of middle aged white South Africans, who cannot believe that they are still around and not eating tins of tuna in a dungeon somewhere after having been frightened into a coma by the ANC," he says. Evita's hilarious on-stage reflections highlighted the stupidity of the apartheid government, and mocked the hypocrisy of so-called liberals.

It was a challenging act for most to laugh at – his performances held up a mirror to white South Africa. "I tried to help my audience laugh at their fear because that's what I do. Things I am frightened of I will not look away from," Uys says. While he was able to get away with a lot more on stage as Evita, even she was not immune to condemnation. His act provoked instances of homophobic abuse, and anger from apartheid officials. However, the authorities seemed to view him as nothing more than a clown. This, as well as the colour of his skin, spared him from the force of the oppressive censorship laws.
Book details